Bertempat di Direktorat Perpustakaan Universitas Islam Indonesia (DP UII) dilakukan kegiatan penyiangan (weeding) koleksi pada tanggal 12 – 31 Mei 2016. Lokasi yang di weeding di lantai 1 dan UG. Hasil weeding sebanyak 409 judul atau 968 eksemplar.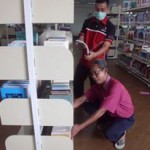 Penyiangan merupakan bagian dari kegiatan pengembangan koleksi yang penting dan bermanfaat untuk menjaga agar koleksi tetap terjaga kekiniannya (up to date), relevan dengan kebutuhan pemustaka, disamping itu juga dapat mengurangi kepadatan tempat (space) di perpustakaan khususnya pada jajaran koleksi. Koleksi yang sudah tidak dibutuhkan disiangi dikeluarkan dari jajaran rak, sehingga ada tempat yang kosong dapat diisi dengan koleksi terbitan baru yang sesuai dengan kebutuhan pemustaka.
Diharapkan dengan penataan koleksi yang baik, koleksi selalu up to date, informasi yang disajikan sesuai dengan kebutuhan pemustaka, hal tersebut dapat menjadi daya tarik bagi pemustaka untuk datang ke perpustakaan dan memanfaatkan koleksi perpustakaan dengan optimal. Sehingga koleksi yang diadakan dengan dana yang besar tidak sia-sia karena juga bermanfaat besar bagi sivitas akademika UII, dan masyarakat pada umumnya.
Kegiatan penyiangan/ weeding ini merupakan agenda rutin Direktorat perpustakaan dilakukan setahun dua kali. Hal tersebut dilakukan untuk menjamin agar koleksi tetap terjaga kualitas dan kuantitasnya sehingga dapat membantu sivitas akademika UII dalam pembelajarannya, selaras dengan tujuan DP UII, yaitu, sebagai pendukung kegiatan proses belajar-mengajar yang berperan dalam menunjang pelaksanaan Catur Dharma Universitas Islam Indonesia, yaitu Pendidikan dan Pengajaran, Penelitian, Pengabdian pada Masyarakat, dan Dakwah Islamiyah.
(Supribadi/ Direktorat Perpustakaan UII)
https://library.uii.ac.id/wp-content/uploads/2016/08/weeding-Mei-2016.jpg
206
274
Muhammad Jamil
https://library.uii.ac.id/wp-content/uploads/2017/11/Logo-Perpustakaan-UII-1.jpg
Muhammad Jamil
2016-06-03 09:15:23
2017-08-08 02:50:59
Kegiatan Weeding untuk Menjaga Kualitas Koleksi Direktorat Perpustakaan UII