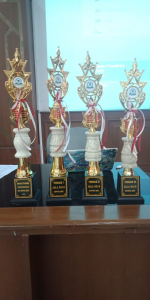 Seminar Nasional Serba-serbi Perpustakaan Perguruan Tinggi di Era Dominasi Pemustaka Generasi Milenial dengan and The Millenial User bersama nara sumber Ida Fajar Priyanto, Ph.D mengambil tema Digital Right Management. Umi Proboyekti, S.Kom., MLIS dengan tema Teknologi Informasi di Perpustakaan. Dr Hj, Sri Rohyanti Zulaikha, S.Ag., SIP., M.Si dengan tema Format Perpustakaan di Era Generasi Milenial dan Anastasia Tri Susiati, S.Kom., MA dengan tema Penempatan Pustakawan Berdasarkan Karakteristik Generasi. Seminar Nasional diselenggarakan Kamis 29 Agustus 2019 yang diketuai oleh. Heri Abi Burachman H., SIP,
Perpustakaan Fakultas Ekonomi UII bekerjasama dengan Forum Perpustakaan Perguruan Tinggi Indonesia Daerah Istimewa Yogyakarta (FPPTI DIY), menyelenggarakan rangkaian acara seminar nasional dibuka oleh Dekan Fakultas Ekonomi Dr. Jaka Sriyana, S.E., M.Si.. dalam sambutannya dikatakan bahwa Perkembangan perpustakaan saat ini didominasi oleh pemustaka generasi milenial yang diyakini sebagai generasi yang memiliki kompetensi informasi, sangat mengandalkan koneksi internet, dan media sosial untuk mendukung aktivitas kesehariannya serta mampu berkolaborasi dengan orang lain. Dalam proses belajar generasi milenial tidak memaksa berinteraksi secara langsung, namun dapat memanfaatkan produk teknologi informasi, proses belajar yang partisipasi dan menyukai informasi yang disajikan secara visual dibanding berbasis teks. Seminar ini dihadiri 100 peserta yang tergabung dalam anggota FPPTI DIY. Seminar dimulai jam 08.00- 15.00 wib. dan diakhiri MUSDA FPPTI DIY dengan menghasilkan pengurus baru periode 2019-2022, dan acara diakhiri tanya jawab dan penyerahan kenang-kenangan serta foto bersama.
Kampus Fakultas Ekonomi Condong Catur Yogyakarta. (Bambang Hermawan/ Pustakawan UII).
https://library.uii.ac.id/wp-content/uploads/2019/09/WhatsApp-Image-2019-09-02-at-14.35.10.jpeg
960
1280
Wahid Hudaya
https://library.uii.ac.id/wp-content/uploads/2017/11/Logo-Perpustakaan-UII-1.jpg
Wahid Hudaya
2019-09-03 09:08:00
2019-09-03 09:12:10
SEMINAR NASIONAL "SERBA-SERBI PERPUSTAKAAN PERGURUAN TINGGI DI ERA DOMINASI PEMUSTAKA GENERASI MILENIAL"